Source
http://www.bbc.com/news/world-asia-india-39487737
Kishori Amonkar: Legendary Indian singer dies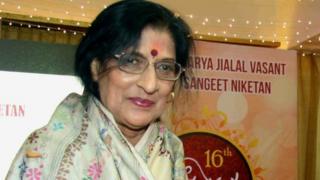 Renowned Indian singer Kishori Amonkar has died at the age of age 86.
Amonkar, who enthralled audiences with her soulful singing for decades, died on Monday night at her house in Mumbai.
The singer followed the classical Hindustani school of singing, but was known for creating her own distinctive style.
Many, including legendary Bollywood singer Lata Mangeshkar, have paid tributes to Amonkar, and acknowledged her "great contribution" to music.
As news of her death broke, many people took to social media to pay tribute. The hashtag #kishoriamonkar has begun trending on Twitter India.
Amonkar started training at an early age under her mother Mogubai Kurdikar who was also a well-known vocalist.
How an Indian maestro is taking classical music to the masses
She was celebrated for the "emotional appeal" of her songs as well as her ability to draw influence from different schools of music.
She received two of India's top civilian honours, Padma Bhushan in 1987 and Padma Vibhushan in 2002.
---
What did Kishori Amonkar mean to you? Tell us your memories. Email us at haveyoursay@bbc.co.uk
You can send your pictures and video to yourpics@bbc.co.uk
You can also contact us in the following ways:
Tweet: @BBC_HaveYourSay
WhatsApp: +447555 173285
Text an SMS or MMS to 61124 (UK) or +44 7624 800 100 (international)
Or use the form below
If you are happy to be contacted by a BBC journalist please leave a telephone number that we can
contact you on. In some cases a selection of your comments will be published, displaying your name as
you provide it and location, unless you state otherwise. Your contact details will never be published.
When sending us pictures, video or eyewitness accounts at no time should you endanger yourself or others,
take any unnecessary risks or infringe any laws. Please ensure you have read the terms and conditions.